Technicians
Esther Masiá Sanchís

Position: Technician
Email: emasia@cipf.es
Esther obtained her technician certificate in pathological anatomy in Valencia in June 2005 and her biology degree at Valencia University in February 2011. Since July 2007, she has worked in the CIPF Screening Platform supervised by Maria J. Vicent. Esther currently works on developing different assays for screening platforms and collaborates on different projects. She oversees cellular and molecular biology techniques, histology, and animal research. Recently, she has performed several European-wide screenings as a member of the European Consortium EU-OpenScreen, covering different diseases (from cancer to infectious diseases such as SARS-CoV-2). The CIPF screening platform has experience in complex cellular screening, three-dimensional modeling, and CellPainting.
Paula Carrascosa Marco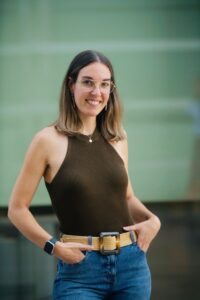 Position: Technician
Email: pcarrascosa@cipf.es
Paula Carrascosa Marco graduated in Biotechnology from the Catholic University of Valencia in 2016 and obtained her Master's degree in clinical Neuroscience at the Complutense University of Madrid. Then, she worked as a research technician at the Instituto Sanitario La Fe on a project related to Parkinson's disease and at the company Arthex, based at the University of Valencia, working on animal models for myotonic dystrophy. In 2021, Paula joined the Polymer Therapeutics Laboratory at the CIPF, where she is involved in many aspects of laboratory management and biological research. She oversees breeding and housing experimental animals, fine-tuning, and performing cellular and molecular biology techniques for group and external collaborations. She is currently working on a variety of projects, including the development of in vitro (patient-derived organoids and cell line-derived spheroids) and in vivo ovarian cancer models and the implementation of the coculture of cancer cells with peripheral blood mononuclear cells to upgrade our available models for polymer-drug conjugates evaluation. She keeps her knowledge current, attending animal models and molecular techniques courses.
Project Manager
Stuart P. Atkinson
Position: Project Manager
Email: stuartatkinson1980@gmail.com
Dr. Stuart P. Atkinson received his Ph.D. in Medical Oncology at the Beatson Research Centre at Glasgow University in 2005 after studying the epigenetic regulation of the telomerase gene reporters in normal and tumorigenic cells. He then moved to the Institute of Human Genetics, Newcastle University (UK), where he collaborated with Professor Lyle Armstrong and Professor Majlinda Lako to study the mechanisms underlying the pluripotent state, the directed differentiation of human embryonic stem cells, and the generation and study of human induced pluripotent stem cells. This work continued after the laboratory moved to the CIPF, where he later joined the laboratories of Deborah Burks and Carlos Simón. After leaving academia, he joined Genera Biotech as a project manager and advisor, and after leaving this post, he joined the Polymer Therapeutics lab as Project Manager. He also assists all members of staff in creating manuscripts and presentations and supports the many Ph.D. students who pass through the laboratory. Stuart also works as a medical writer for the Carlos Simon Foundation for Research in Women's Health and Epigenie.com and Active Motif as an article and blog writer, which mainly involves epigenetics. He also acts as an article editor for principal investigators from multiple Valencian research institutes, covering various topics.